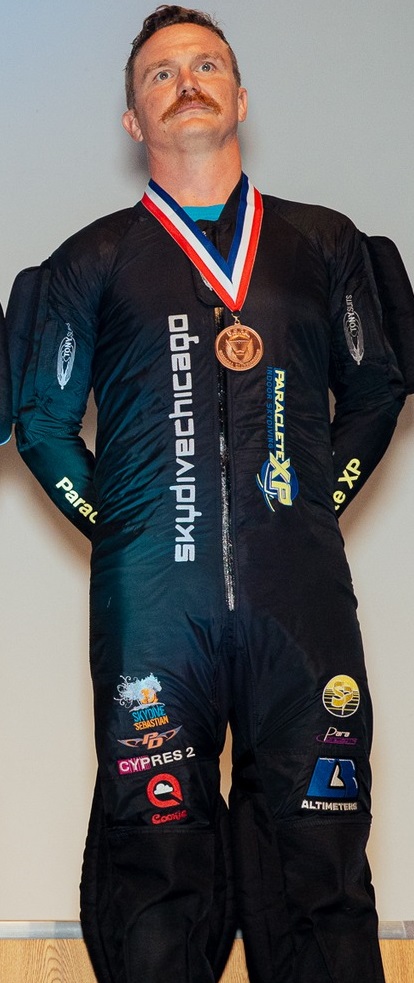 Personal Details
Position: Outside Center
Email: doug@rhythmskydiving.com
From: Born in Kennesaw GA
Birthday: 05/19
First jump: August 2003
Jumps: 11000+
Tunnel Time: 1000+
Former teams: VTSD, Carolina Turbo XP, TurbOcho, XP8, Rhythm8, GKXP, Prison9, XP16
Skydiving Influences: Kirk Verner, Shannon Pilcher, Jan Lane, Craig Girard, Steve Lefkowitz
Hobbies / Activities: Spending time with my family, hiking, watching The Office, jumping out of planes
Education Degree: Studied Civil engineering at Virginia Tech
How I got into Skydiving: I grew up around the sport.  My father is a jumper and we spent many weekends at the dz learning about the sport and loving the people involved. My father took me on my first two tandems and then I started AFF shortly after that.
What I like best about 4-way: All of it, team togetherness, pushing yourself to be better, developing a training plan and executing it, jumping out of airplanes. 
What I like best about SDC Rhythm XP: My teammates involved in the program, everyone has the same attitude to progress the sport and themselves to the next level. We all push each other to be better people and skydivers it is an amazing program to be involved in!
Competition History
2022: XP16 – 1nd Place USPA Nationals 16way
2022: Prison9- 2nd Place USPA Nationals 8way
2022: SDC Rhythm XP – 2nd Place USPA Nationals 4way
2021: Prison Break- 3nd Place USPA Nationals 10 way
2021: Prison Riot – 3nd Place USPA Nationals 16 way
2021: SDC Rhythm XP – 2nd Place USPA Nationals 4way
2020: SDC Rhythm XP – 2nd Place FAI World Championships Tanay
2019: SDC Rhythm XP – 1st Place USPA Nationals 4 way, 2nd Place World Cup 4way
2019: SDC Rhythm XP – 2nd Place US Indoor Nationals 4 way
2017: SDC Rhythm XP – 2nd Place USPA Nationals Open
2017: SDC Rhythm XP – 3rd Place FS World Cup, Saarlouis, Germany
2016: Paraclete Indoor Skydiving Championships 3rd place SDC Rhythm XP
2016: Rhythm8 – USPA 8 way Open 4th place
2016: GKXP – USPA 16 way National Champions
2016: SDC Rhythm XP – USPA 4 way Open 2nd place
2015: Carolina Turbo XP – USPA 4 way Open 4th place
2014: XP8 – USPA 8 way Open 3rd place
2014: GKXP – USPA 16 way Champions
2014: Carolina Turbo XP – USPA 4way Open 4th place
2013: Carolina Turbo XP – USPA 4way Open 4th place
2012: TurbOcho – USPA 8way Intermediate Champions
2010: Carolina Turbo XP – USPA 4way Advanced National Champions
2009: VTSD – USPA 4way Intermediate National Champions