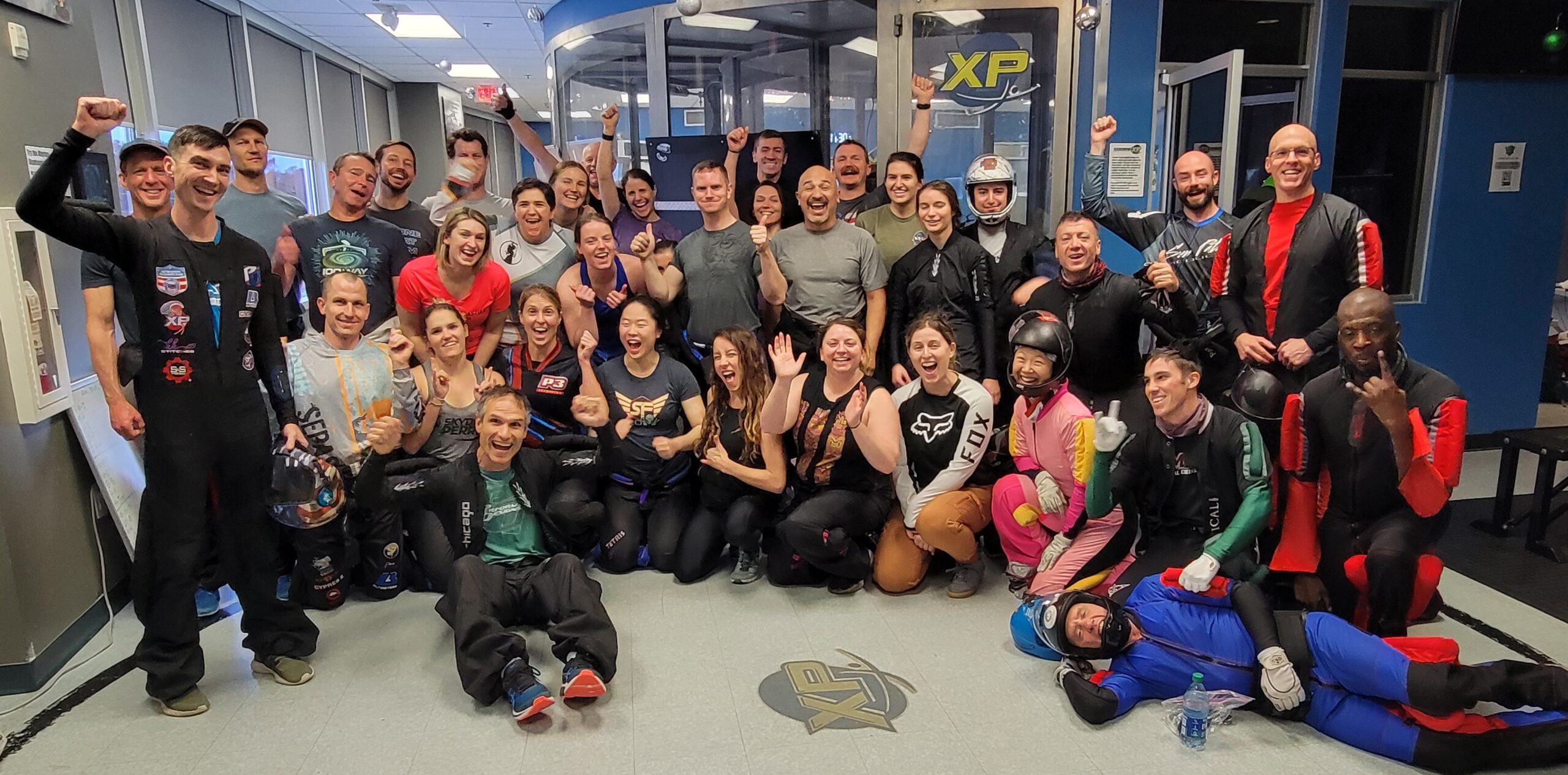 Rhythm Tunnel Workshops
Is a Rhythm Tunnel Workshop for you?
What to expect at a Rhythm Tunnel Workshop
Fundamentals of Formation Skydiving: One-on-One Coaching
The Rhythm one-on-one curriculum includes a clearly defined and systematically laid out lesson plan. Every student has a dedicated coach, and it will be just you and the coach one-on-one in the wind every time. Even before you show up, you'll be provided with videos and other materials to help prepare you and your coach to make the most out of your experience.
Our curriculum starts with the basic points of motion (forward-back, sideslides, slowfall-fastfall and turns) and builds on that to develop more and more complex flying capabilities. Because we are preparing you for skydiving, we also focus on things like grip taking, referencing with other people, and presenting your body in various orientations like cats, phalanxes, and closed accordions – all terms you will learn during the camp. We also fully understand that each student learns in their own way and comes to us with different skill-sets, and we pride ourselves on customizing our standard curriculum to best fit the needs and interests of the student. We will go as fast or as slow as you need.
During the camp, your time will be split across multiple sessions throughout the day. Before each session your coach will prep a series of drill dives with you, explaining how to do each dive, setting goals and walking through the dive flows. During each session you'll fly 10 minute-and-a-half flights with your coach (one student with one coach in the wind tunnel at a time), with minute-and-a-half rest between each flight. After the session, you will join your coach for a full debrief of your flights from video, and tailor the next session's jumps appropriately. At the end of the camp you'll be able to download your video files. You will also be provided with a detailed assessment of your skills with a clear road map to further progress.
4way and 8way coaching
While one-on-one builds the fundamentals of body flight, 4way and 8way is where we get to play the game! For both 4way and 8way, you can come with a whole group or part of a group, and we can fill in the rest with other students or coaches, depending on your interest and budget. We will pair you up with appropriately skilled flyers. We pride ourselves on fitting the instruction to the participants. We will provide you with materials like 4way and 8way workbooks for you to keep and take notes throughout the workshop. We also provide a detailed assessment of your skills at the end of the workshop with a clear road map to further progress.
Rhythm has deep experience training skydivers who are just starting out in 4way as well top, seasoned competitors. You don't need any prior 4way experience to join us for 4way, though we do recommend you fly some one-on-one with us if you have never flown 4way before.
Coaching in Spanish is also available. Please ask for more details. If you have a friend or loved one who wants to just join the group and freefly, we can arrange that as well.
4way
Our 4way coaching can consist of 3on1 (three students with one coach), 2on2 (two students with two coaches), and 4 students with the coach outside. We work with students at all levels. Even if you don't know exactly what's right for you, sign up and we'll call you personally to find the best format for you.
8way
8way with Rhythm usually consists of 7on1 (seven students with one coach), 6on2 (six students with two coaches), or 8 students with the coach outside. Just as with 4way, we work with skydivers whose experience ranges from novice to competitive teams.
Pricing
One-on-One
One student with one coach
Choose from one of these three packages, customize your own
Platinum Package
Three days. Nine 15-minute sessions
$3,263
Gold Package
Two days. Six 15-minute sessions
$2,175
Silver Package
One or two days. Four 15-minute sessions

$1,450
15 minute add-on
Adjust any package in 15-minute increments
$363
---
4way
Our fourway coaching is based on hour flown, and vary based on the number of coaches involved. Prices are per person, per hour flown
Four way team
Four students with the coach outside
$375
3on1
Three students flying with one coach
$500
2on2
Two students flying with two coaches
$850
---
8way
Our 8way coaching is based on hour flown, and vary based on the number of coaches involved. Prices are per person, per hour flown
8 way team
Eight students with the coach outside
$200
7on1
Seven students flying with one coach
$230
6on2
Six students flying with two coaches
$300