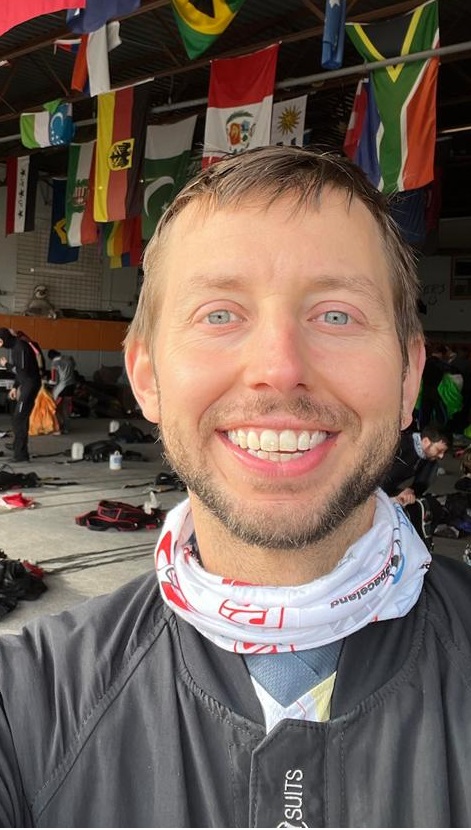 Personal Details
Position: Point
Email: SteveLoufek@rhythmskydiving.com
From: Helmetta, NJ
Hometown: Monroe Twp, NJ
Birthday: July 6, 1984
First jump: 7/11/2003
Jumps: 1950
Tunnel Time: (I'll have to get back to this one)
Gear: Javelin , Sabre2 150, OP160, Tony Suit, G4, Viso2 Alti, N3 Audible.
Former teams: Blood on the Glass, PetriCKor, CK Flying Dogs, The Gr8 Rhevival
Skydiving Influences: in order of appearance: Range Luda, Barry Ward, Rennay Blizzard, Dave Grabowski, R2G, Scotty Latinis, Alex Jordaan, Jeanna Billings, Dan BC, Doug Barron.
Hobbies / Activities: Golf, Hiking, Skiing, Climbing, Baking all things sourdough.
Occupation: Registered Nurse and Skydiver
Education Degree: Bachelors of Science in Nursing
How I got into Skydiving: Made plans with a few friends to make our first jump at Skydive Cross Keys (at the time was Freefall Adventures)
What I like best about 4-way: My favorite thing about 4-way is competition. The opportunity to compete with 4 of my teammates, for 10 rounds is what drives me in skydiving.
What I like best about SDC Rhythm XP: My teammates.
Favorite moments with the team: Team meal time.
Outside of Skydiving, one day I hope to: Hike another long trail, either the Pacific Crest Trail or the Te Araroa in New Zealand.
Competition History
2020 SVNH Tunnel Meet – Blood on The Glass – 7th in Beginner
2020 Cloud games – Petrichor – 1st in Rookie
2021 USPA Nationals – PetriCKor 7th in Int
2022 USPA Nationals – CK Flying Dogs 4th in Adv.